Since macOS 10.15 Catalina, due to the new security feature in the OS, access permission has not been automatically given to the folders which are used by ScanSnap Home during scanning.
To use ScanSnap Home on the OS or later, you need to give the Full Disk Access permission to the application at Full Disk Access in macOS system preferences. (*)
(*) Even when Full Disk Access is granted to ScanSnap Home, the application only accesses the folders for saving and managing scanned images, and does not access the other areas of the disk.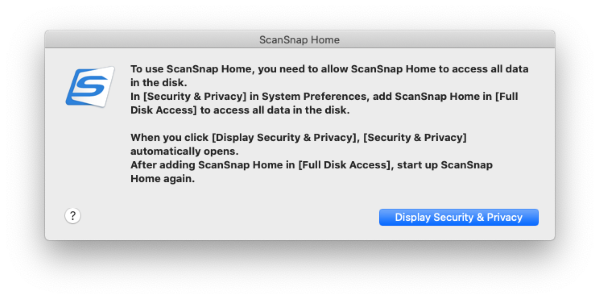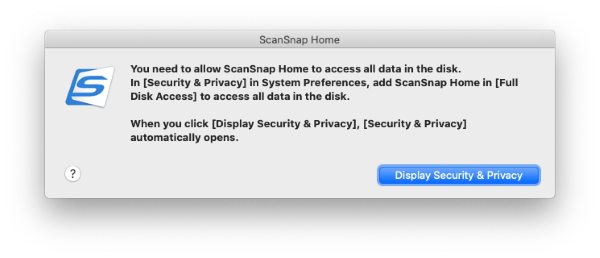 Follow the steps below to grant Full Disk Access to ScanSnap Home, and then check if it solved the problem.
Click the [Display Security & Privacy] button on the message above, or open [Security & Privacy] in macOS system preferences and then select Full Disk Access in the list in the [Privacy] tab.

Click the lock icon 🔒 in lower left.

Enter the user name and password to system administrator account and click [Unlock].

Click the "+" button.

Select ScanSnap Home.app in the Applications folder.

When the following message appears, click [Quit Now] to quit ScanSnap Home to grant Full Disk Access to the application.
This completes granting Full Disk Access to ScanSnap Home.