The user icon (user name) for switching user appears in the following conditions.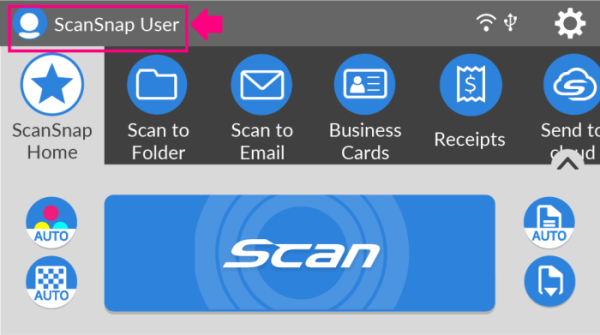 The following settings are selected in the [Settings] screen on the touch panel.
- [Selected user] for [Display of profiles] in the [Scanner settings] screen.
- [Access point connection] or [Direct connection] for [Wi-Fi connect mode] in the [Wi-Fi settings] screen.
Two or more history records of computers that have been connected to the ScanSnap before exist.


Note:
The history record of computers in the ScanSnap is initialized whenever the [Display of profiles] setting is changed on the touch panel.
For details refer Changing Users in order to Display the User's Own Profiles.
To use [Connected user] or [Selected user] on ScanSnap iX1500, install the update for firmware and ScanSnap Home, referring to the FAQ below.
Can I use [Display of profiles] on my ScanSnap iX1500 to display only the profiles of a user on the touch screen?