On and after February 25, 2019, the error may occur when trying to save scanned data to Google Photos™ through ScanSnap Cloud.
In that case, sign in Google Photos™ again on the profile setting of the software you are using (ScanSnap Home or ScanSnap Cloud Application).
For details on how to sign in Google Photos™ again, press the Help button on the error message.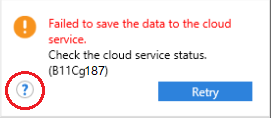 Note:
When using ScanSanp Cloud Application for iOS/Android™, the error message appears saying "Expired" during re-authentication of Goolge Photos™. Select [Authenticate] to continue to sign in Google Photos™ in that case.
After signing in Google Photos™, scanned data will be saved into a newly created album named "ScanSnap" in Google Photos™. Even if an album with the same name already exists, the ScanSnap album will be created as another album.
This error is due to an inevitable update of ScanSnap Cloud carried out to be compatible with the changes in Google Photos™ programing interface (API).