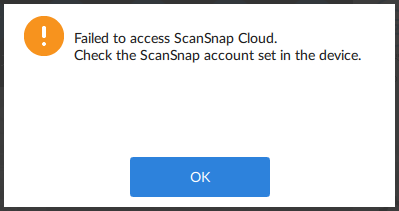 This error may occur when the startup mode of ScanSnap iX1500 is set to [Fast].
Try the following steps.
Set the startup mode of the ScanSnap iX1500 to [Normal].

For how to change the startup mode, refer to this page (

ScanSnap Help

).

Connect the ScanSnap iX1500 and a computer over the USB cable, and then run ScanSnap Home on the computer.

Close the cover of ScanSnap iX1500 to power it off.

Wait for 20 seconds, and then open the cover to scan again.
After that, you can return the startup mode to [Fast]. It no longer causes the error.
If the problem persists, please contact us. Click Contact Us on the right of this page to find our contacts.