The glass or the white sheet, both of which are located in the scanning component of your ScanSnap, might be dirty. Clean them in the same manner as described in the Operator's Guide.
[How to clean the scanner]
Open the cover and wipe the glass and the white sheet with a clean cloth that is free of fiber dust (e.g. spectacle cloth).
Since dirt on the glass and or the white sheet is difficult to remove, use cleaner F1 which can be purchased from the dealer where you bought your ScanSnap, or the distributor/dealer near you.
Do not use water or neutral detergent to clean the inside of the ScanSnap.
Do not use any aerosol sprays to clean the ScanSnap. Dust blown up by strong air from the spray may enter inside of the ScanSnap. This may cause the ScanSnap to fail, malfunction or scanning errors.
The paste on the cutout of magazine or book will not come off without carefully wiping with Cleaner F1 or anhydrous alcohol.
ScanSnap iX500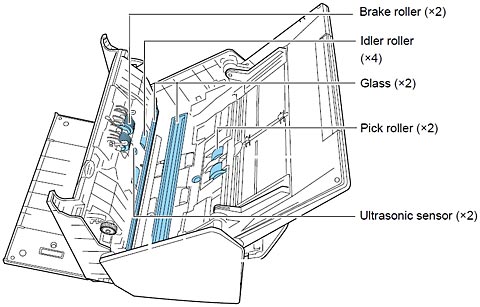 ScanSnap iX100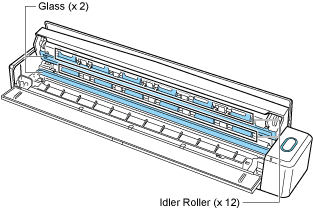 ScanSnap S1100i / S1100

ScanSnap S1300i / S1300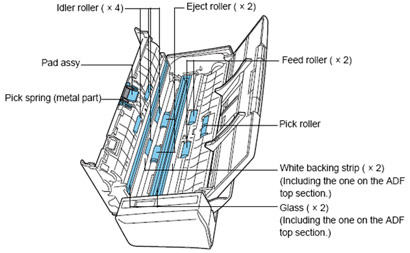 ScanSnap S1500 / S1500M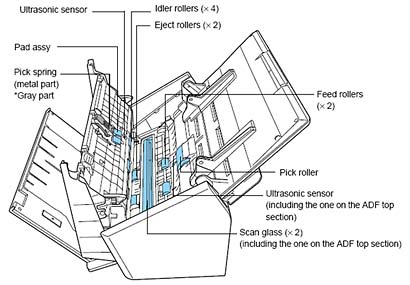 ScanSnap S300 / S300M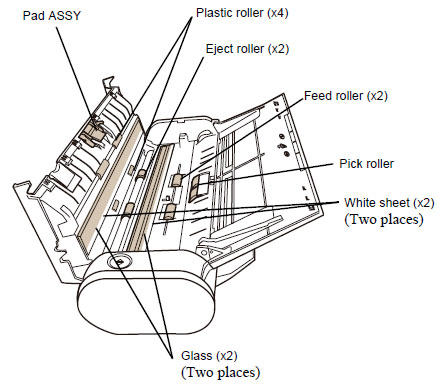 ScanSnap S510 / S510M / S500 / S500M